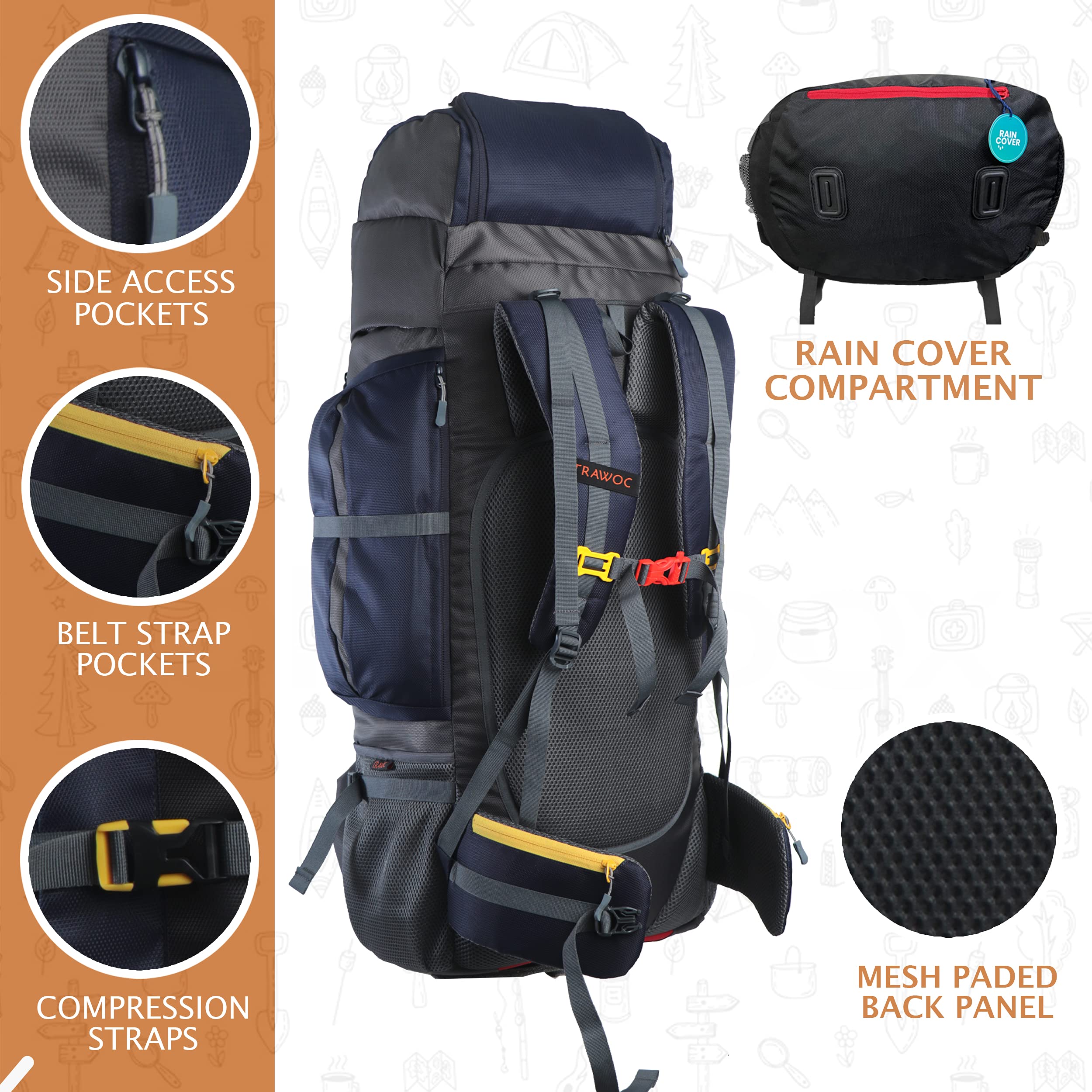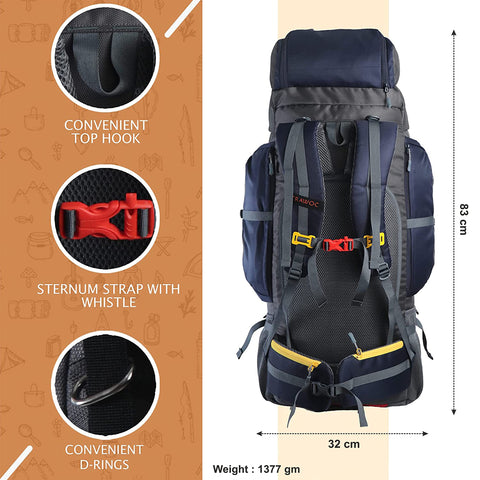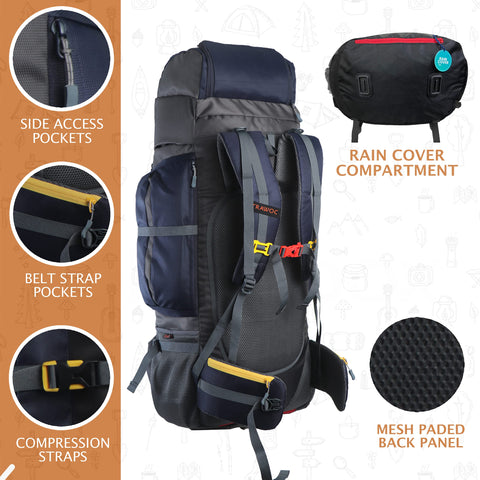 EXPEDITION-80 Rucksack - Navyblue (Renewed)
Rs. 4,999.00

Rs. 1,742.00

Unit price

per
SKU:
RFD-BHK001-TRAWOC-NAVYBLUE
🏷️ Our Offers
➜ Use TRAWOC10 for flat 10% off
➜ Corporate Gifting At Big Discounts - Enquire
🎉 Clearance Sale:
Discount Already Applied! Hurry, Limited Stock!
Frequently Bought Together
One can availability of this large trekking backpack. This rucksack bag possesses the volume of 4 standard backpacks, i.e. 80 Litres. This smart backpack comes with LAPTOP SLEEVE as well. This huge hiking backpack holds amazing durability, best for adventure seekers. This multi-utility rucksack has various straps and compartments which will assist you in preserving weighty travel stuff.

This trekking backpack bag is made up of highly durable material, which makes it suitable for all weather conditions including heavy rains and extreme scorching heat. It will not only keep the inside stuff safe but will also resist damage to itself.maximize their leisure time on the trip with the
MAXIMUM STORAGE SPACE
Made of premium quality water-resistant fabric.
The backpack comes with an integrated rain cover which can protect your bag from rain and snowfall.
Designed with adjustable straps, you can adjust the straps according to your needs.
Great back-ventilation design provides airflow, making your back cool and dry even after a long trip.
This backpack bag has an 80-liter storage capacity where you can keep and arrange all of your travel accessories and gear.
Choosing a rucksack bag is more intricate than just looking at its design. So, it is quite important to spend some time on your requirements and researching the bag to secure the perfect one. When you are looking into a rucksack bag you need to be careful about several things, such as comfort, size, usefulness, and fit. Here we present TRAWOC 80 liter adventure rucksack bag which fulfills all your requirement and makes your adventure comfortable, convenient, and stylish too.
SPECIAL FEATURES
Laptop compartment
Front and top loading option
Shoe compartment
Integrated rain cover
Water-resistant material
Why TRWOC Bags?
For us, 'quality' is not just another word, but a protocol all of us at Trawoc stringently follow. That is the reason why we use premium-quality fabric for manufacturing purposes. Having been an inseparable part of the industry for years has made me gain a strong foothold in the market. Truth be told, we have attained an enviable reputation for excellence in the industry.
About TRAWOC
It was the year 2016 when the brand 'Trawoc' was born out of curiosity with the intention to provide trekkers with stylish and ergonomically designed trekking bags for hill climbing. We aim to bring affordable trekking gear to all enthusiasts. Your trekking bag is more like a companion, which is why we go to great lengths to ensure all our products are designed using the three pillars:
Utility, Comfort, and Strength.
We fuse our passion and enthusiasm when it comes to designing and producing trekking bags whose 'quality' remains unmatched in every sense of the word. These bags are not only laden with style, but they offer a plethora of distinct features and functions that will make you stand out from the crowd.
Founder At TRAWOC