VORTEX-60 Rucksack - Englishblue (Renewed)
Rs. 2,999.00

Rs. 1,308.00

Unit price

per
SKU:
RFD-HK004-TRAWOC-EBLUE
🏷️ Our Offers
➜ Use TRAWOC10 for flat 10% off
➜ Corporate Gifting At Big Discounts - Enquire
🎉 Clearance Sale:
Discount Already Applied! Hurry, Limited Stock!
The multipurpose rucksack bacpack looks smart, athletic and venturesome and the blend of grey and red makes it appear exquisite. Your hiking trips, mountaineering experience cannot get completed without this amazing trekking backpack.
The hiking backpack is 60 litres, which means it is triple times the normal requirement of a backpack. This backpack bag comes with a convenient LAPTOP SLEEVE inside the main compartment.
Travel Backpack
This rucksack bag will facilitate you in all your sports, camping and hiking trips.
It has got several straps, buckles, and pockets that make it suitable for adjusting a lot of travel stuff.
These bags are waterproof which makes them apt for surviving in heat, rain, and other extreme situations.
Water-resistance also helps in stretching out the life span of these backpack bags
Our bag is made of lightweight PU coated polyester fabric to hold up all your essentials really well.
From the excitement of wandering the mountains to the practicality of commuting with computers, backpacks are some of the most handy, sturdy and good-looking ways to carry your things while traveling.
SPECIAL FEATURES
Laptop compartment
Water resistant material
Why TRWOC Bags?
For us, 'quality' is not just another word, but a protocol all of us at Trawoc stringently follow. That is the reason why we use premium-quality fabric for manufacturing purposes. Having been an inseparable part of the industry for years has made me gain a strong foothold in the market. Truth be told, we have attained an enviable reputation for excellence in the industry.
Best quality of material, stitching, design, YKK chain in economic pricing
Guys this is my 4th bag from TRAWOC, when I purchased first bag I came to know about the quality of material, stitching, excellent YKK chain, best design and that to in economic pricing. I will recommend all products of Trawoc subject to your budget, If wish to watch review of bag then follow the link on our YouTube channel Simple Lifestyle Vlogs https://youtu.be/kPCcJIegMm8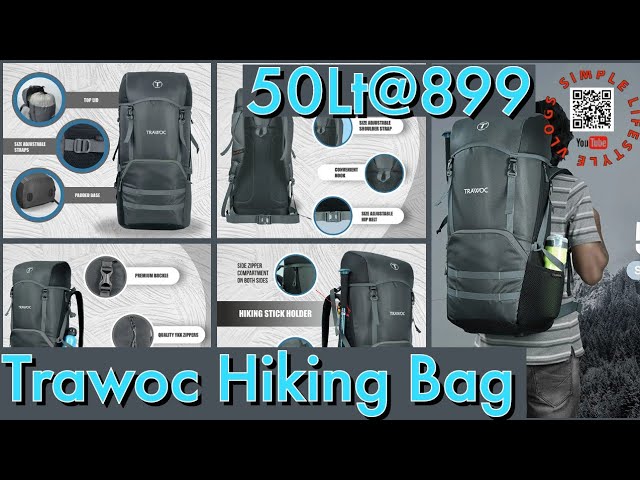 About TRAWOC
It was the year 2016 when the brand 'Trawoc' was born out of curiosity with the intention to provide trekkers with stylish and ergonomically designed trekking bags for hill climbing. We aim to bring affordable trekking gear to all enthusiasts. Your trekking bag is more like a companion, which is why we go to great lengths to ensure all our products are designed using the three pillars:
Utility, Comfort, and Strength.
We fuse our passion and enthusiasm when it comes to designing and producing trekking bags whose 'quality' remains unmatched in every sense of the word. These bags are not only laden with style, but they offer a plethora of distinct features and functions that will make you stand out from the crowd.
Founder At TRAWOC